Report: Lindsay Lohan Boozing Hard While Tweeting Drug Test Confession
According to a new report, Lindsay Lohan was not only drinking whiskey and coke while Tweeting her drug test mea culpa, she wasn't taking it seriously at all.
Lindsay Lohan certainly sounded contrite in her Sept. 17 Tweets, in which she admitted
failing a drug test
and said "I'm taking responsibility for my actions."
But
according to Us
, the star crafted her statement that night on her Blackberry at Hollywood eatery Magnolia, laughing and quaffing Jack Daniel's all the way.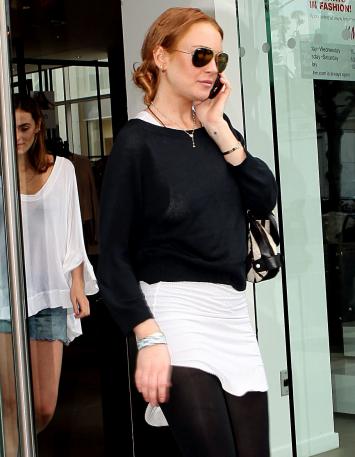 Lindsay Lohan just doesn't get it.
The troubled actress composed her "confession" as her assistant and a male pal coached her on how to make each Tweet "more personal," the witness says.
"Her friend would say, 'No, use 'setback,' not 'mistake.' They'll say you make mistakes all the time!" The friend said, "It's better to say you're responsible."
"Denying it will just get everyone mad per usual."
Lohan's response? "She giggled" and had her assistant order her another Jack and Coke. The final draft was sent to manager
Larry Rudolph
and bada bing.
Despite the fact that she
may be jailed
as a result of the failed tests, which blatantly violate her probation, Lohan "wasn't emotional" and even joked, "What are you gonna do? I'm ill" while making air quotes and drinking more Jack.
What do you think? Lock her back up?
Yes! She'll never learn otherwise!
No! She's trying her best! Give her a break!