U.S. soldier suspected in fatal shooting of 2 fellow soldiers
September 28, 2010 -- Updated 1154 GMT (1954 HKT)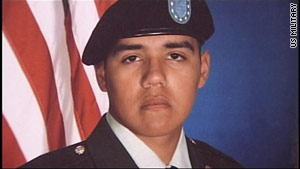 Spc. John Carrillo, 20, of Stockton, California, died on Friday, the Defense Department said.
Baghdad, Iraq (CNN)
-- A U.S. soldier is in custody in connection with the shooting deaths of two fellow soldiers and the wounding of a third in Iraq, the U.S. military said Tuesday.
Spc. Neftaly Platero is in pre-trial confinement, a U.S. military statement said.
Platero is suspected in the deaths of Spc. John Carrillo Jr., 20, of Stockton, California, and Pfc. Gebrah P. Noonan, 26, of Watertown, Connecticut, the military said.
Carrillo and Noonan died Friday of injuries sustained in a "non-combat" incident that occurred a day earlier, the U.S. Department of Defense said.
They were assigned to 3rd Battalion, 15th Infantry Regiment, 4th Infantry Brigade Combat Team, 3rd Infantry Division, Fort Stewart, Georgia.
Video: Soldier mourned after death
The incident remains under investigation.
"Our condolences go out to the families of those service members whose lives were lost," Brig. Gen. Jeffrey Buchanan said in a statement. "We are saddened by this tragic incident."
Carrillo's mother, Desiree Carrillo, told CNN affiliate KCRA that her son was a good son and a good father.
"He joined the Army to better his family," Desiree Carrillo said. "He was a young father, and he wanted to support his kids."
The Carrillo family said the military made notification of Spc. Carrillo's death on Friday but did not say that he may have been killed by another service member. The Carrillos heard about that possibility after being contacted by local media and after an internet search.
"It was very devastating. To find out he was shot by a fellow soldier is unbelievable," Desiree Carrillo told KCRA. "The military should be embarrassed."
Dane Street, Noonan's former track coach, told WFSB that Noonan was loved by nearly everyone.
"His big hair matched his big personality," Street said. "He loved experiencing life, and it was great."
Several people posted rest-in-peace messages on what appears to be Noonan's Facebook page. The page of "Gebrah Noonan" also lists "Neftaly Platero" -- the same name as the suspect -- as a Facebook friend.
The Platero Facebook page features a photo of a group in military attire.